Solar Panel "PREMIUM SOLAR"
Single Crystal (Half-Cut) 435/440/445W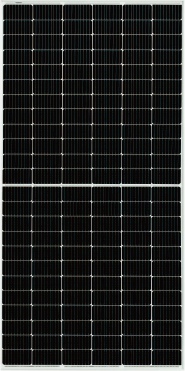 It has been developed for the purpose of commercial use "Hi Quality" "Hi Module Efficiency" "Reliability" "Durability" Premium Solar has all the unique propositions as above.
Global Tier 1
bankable brand
12% more power than
conventional module
Lower power degradation
Lower internal current
Lower hot spot temperature
Outstanding mechanical
load resistance
Great Durability against
extreme conditions
A solar panel (solar module) consists of what is called a cell (power generation element). A half-cut cell is a cell that is half the size of the conventional one.
The half-cut cell is about half the size of a normal cell, and it is said that power generation efficiency is improved by reducing the electrical resistance. Even in the hot summer months, it is possible to prevent a drop in conversion efficiency due to high temperatures, and it can be expected to generate power more efficiently.
Advantages of half-cut cell
ELECTRICAL PERFORMANCE
Electrical Parameters Standard Test Conditions
| | | | | | |
| --- | --- | --- | --- | --- | --- |
| Module Type | | | 10FF-435M-144 | 10FF-440M-144 | 10FF-445M-144 |
| Power Output | Pmax | W | 435 | 440 | 445 |
| Power Tolernace | △Pmax | W | | 0 / +5W | |
| Module Efficiency | ηm | % | 19.69 | 19.92 | 20.14 |
| Voltage at Pmax | Vm | % | 40.7 | 40.8 | 40.9 |
| Current at Pmax | Im | A | 10.69 | 10.78 | 10.88 |
| Open-Circuit Voltage | Voc | V | 49.5 | 49.6 | 49.7 |
| Short-Circuit Current | Isc | A | 11.25 | 11.34 | 11.45 |
STC: 1000w/㎡ irradiance, 25℃ module temperature, AM1.5
THERMAL CHARACTERISTICS
| | | | |
| --- | --- | --- | --- |
| Nominal Operating Cell Temperature | NOCT | ℃ | 45±2 |
| Temperature Coefficient of Pmax | γ | %/℃ | -0.360 |
| Temperature Coefficient of Voc | βvoc | %/℃ | -0.290 |
| Temperature Coefficient of Isc | αisc | %/℃ | +0.049 |
OPERATING GONDITIONS
| | |
| --- | --- |
| Max.System Voltage | NOCT |
| Max.Series Fuse Rating | γ |
| Operating Temperature Range | -40℃~85℃ |
| Max Static Snow Load | 5400Pa |
| Max Static Wind Load | 3800Pa |
| Application Class | A |
CONSTRUCTION MATERIALS
| | |
| --- | --- |
| Front Cover (material / type / thickness) | low-iron tempered grass / 3.2mm |
| Cell (quantity / material / type / dimension) | 144 / monocrystalline / 166×83mm |
| Encapsulant (material) | ethylene vinyl acetate (EVA) |
| Frame (material / anodization color) | anodized aluminium alloy / silver or black |
| Junction Box (protection degree) | IP68 |
| Cable (length / cross-sectional area) | 1200mm / 4㎟ |
| Plug Connector | MC4 compatible |
GENERAL CHARACTERISTICS
| | |
| --- | --- |
| Dimension (L/W/H) | 2108 / 1048 / 40㎜ |
| Weight | 24.2kg |
PACKING CONFUGURATION
| | |
| --- | --- |
| Pallet Size (L/W/H) | 2150 / 1120 / 2500㎜ |
| Pallet Weight | 1406kg |
| Pieces per Pallet | 54pcs |
| Pieces per Container | 594pcs |
INTERNATIONAL CERTIFICATES
IE 61215,IEC61730
ISO 9001:2015 (Quality management systems)
ISO 14001:2015 (Environmental management systems)
OHSAS 18001:2015 (Occupational health and safety)
I-V CURVE